Google Maps: My people in their places
Article from TheVerge by Nilay Patel
It is widely known that the iPad is the most successful tablet in the market. When it comes to second place, it has recently been a battle between the up-and-coming Windows 8 tablet, and that which is owned by Android.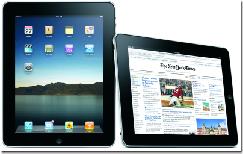 Android has come to terms with the fact that their apps may not be the most graphically elegant. Microsoft, on the other hand, is doing all that they can to fix the graphics on their tablet. They are keeping their eye on the prize with bribery.
"Google is simply hoping developers create great Android tablet apps while Microsoft is pushing them towards Metro and providing significant rewards to those who get there first."
Both companies are concerned that the other may overpower them; but both companies realize that whoever wins will stand no chance against Apple's iPad.
Youtube has always struggled with the copyright controversy. In 2007, the company developed a system called Content ID. The system goes through uploaded videos and uses audio fingerprinting to detect copyrighted material.
The existing systems were not advanced enough to keep up with all of the uploaded videos. The new technologies give artists the opportunity to see what of theirs has been uploaded. Once found, the artists are notified.
The owners of the material then have three options:
"Block — This means that if a content match is found, the video will not be viewable.
Track — The video can stay online, but the content owner will be able to track how many views it receives and from where.
Monetize — Rights holders can choose to serve ads on the content and they will receive revenue from those ads."
These options take the responsibility out of the hands of Youtube. The artists can decide what actions to take.
by Mark Briggs
Chapter six highlights the importance of photography in journalism. Page 142 begins with a quote from journalist Matt Thompson saying, "Are we using 1,000 words where a picture should be?"
Briggs discusses the convenient aspects of different kinds of cameras. Digital cameras, for instance, allow the user to scroll back and look at the pictures they have taken. This makes the possibility of getting an aesthetically pleasing picture more likely.
He shares that why DSLR cameras produce good quality videos, they are harder to manage. Point and shoot cameras can fit into pockets and computer bags.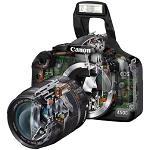 Picture: 450D
Briggs shares secrets of how to capture better photos. This includes avoiding certain lighting, filling the frame, and having a steady hand. He even teaches the most effective way to crop a picture to make it easy on the eyes.

Chapter five of JournalismNext discusses the importance of smartphones in online and offline journalism. I have always know that my phone can do tricks, but it is key to know how those tricks can be used for my career. Briggs referred to the smartphone as a "Swiss Army Knife," on pg. 123.
This rings true. Smartphones can not only take videos and pictures at any moment, but those can be immediately uploaded to the internet when service is available. This makes reporting that much faster.
Briggs described the difference between "gearheads" and "light packers." Gearheads bring loads of fancy equipment with them to do their reporting. This is similar to the amount of luggage that Brad Kalbfeld brought into our class. It really showed us how much less journalists have to carry around these days.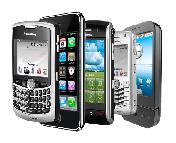 From the other end of the spectrum, the light packers were those who carried smartphones. Sure, those people most likely can't produce work that appears to have more quality than the gearheads, but their free arms and quick set-up allows them to catch more footage quicker.
http://mashable.com/2012/02/16/tablets-american-children/
Mashable Article by Zoe Fox
This article is particularly interested to me because I have recently been noticing how many children are using Tablets and iPads. Case and point: my two year old niece plays Cut the Rope on my step-father's iPad. She's better than me. She sits on the couch next to his desk and flips through youtube videos. When she's no longer interested, she minimizes the screen and does something else.
This makes me think that either my niece is a baby genius (which I'm sure isn't far from the truth) or society is really developing. She can't even use the toilet successfully yet, but she can use the iPad like she invented it. These companies must be doing something right.
I've noticed that commercials for these specific products lately have involved children. The advertisers seem to be targeting the parental audience, suggesting that these products can entertain and teach their children.
Fox asks her readers if they think that these devices are helping or hindering the education of children.
This chapter highlighted the different positive outcomes from microblogging services like Twitter. Firstly, Briggs tells us that Twitter can be used to put out links to recently written material. Another important thing that it does is allow the public to feel connected to the journalist without a one-on-one communication.
Another important aspect of microblogging that Briggs outlines is the flexibility of Twitter. It can be built upon and adapted by other social mediums to get the news out (such as Storify).
Twitter can also be one of the fastest ways to share breaking news with the public. As long as it takes a television broadcast to air, microblogging can get the news out instantly. Being on Twitter and following people on Twitter can help people know what's going on in the world.

TechCrunch Article by Anthony Ha
My Recap:
A new app has allowed iPhone users to report traffic with a simple wave of their hand. If they are sitting in traffic and their Waze app is on, they can voice command their iPhone to report the traffic.
These users choose between different levels of traffic, and it reports to the app itself. The fellow users can then see what traffic to expect. The only downfall that Ha pointed out was that people should not be using their phones while they are in traffic.
It may present small threats to drivers, but it also has the positive outcome of giving people the opportunity to change routes ahead of time.
Categories