by Mark Briggs
Chapter six highlights the importance of photography in journalism. Page 142 begins with a quote from journalist Matt Thompson saying, "Are we using 1,000 words where a picture should be?"
Briggs discusses the convenient aspects of different kinds of cameras. Digital cameras, for instance, allow the user to scroll back and look at the pictures they have taken. This makes the possibility of getting an aesthetically pleasing picture more likely.
He shares that why DSLR cameras produce good quality videos, they are harder to manage. Point and shoot cameras can fit into pockets and computer bags.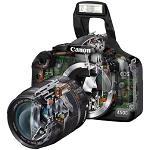 Picture: 450D
Briggs shares secrets of how to capture better photos. This includes avoiding certain lighting, filling the frame, and having a steady hand. He even teaches the most effective way to crop a picture to make it easy on the eyes.